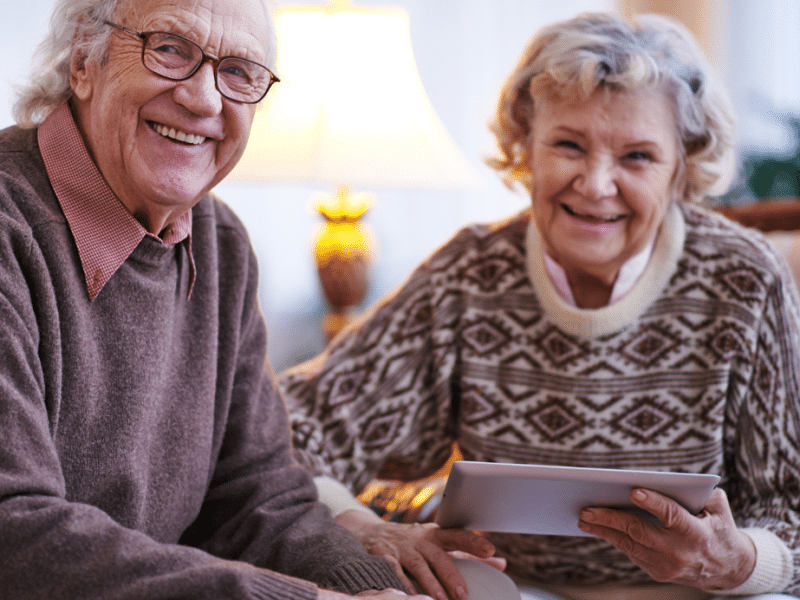 Birthdays, and holidays were always spent in her small but cozy living room – and the dining room was filled with sweet memories. When she began experiencing severe mobility issues, she panicked at the thought of leaving her home.
Avita had been experiencing health challenges and mobility issues that left her unable to walk on her own. She relied on her husband, Frank, to take her to doctor's appointments and the local pharmacy. Frank did the best he could to support Avita, but it was clear he couldn't manage on his own.
In May 2023, Frank made the call to JFS St. Louis. He was connected with a case manager, who listened attentively to Frank's concerns. Within a week, the JFS Case Manager arrived at Frank and Avita's home to complete an assessment of their needs. While talking to them, the case manager learned that the couple was struggling to afford groceries on Frank's limited income. Avita also shared that the couple could barely keep up with day-to-day chores, like the laundry and meal preparation.
The case manager helped Avita and Frank sign up for food assistance from the Harvey Kornblum Jewish Food Pantry. She also worked with Avita to complete paperwork for in-home services, which would provide her with light housekeeping and personal care.
Avita's mobility issues persisted, and she often worried about the moment she would need to leave her home. Her fear and anxiety were quelled when Frank gave her the good news: JFS was providing financial assistance to install a ramp to their doorstep! Instantly, Avita's eyes swelled with tears of joy. She would now be able to easily use her wheelchair to leave and enter her home.
With the new ramp installed, Avita finally feels free to move around by herself. While she still sometimes relies on Frank, Avita can now enjoy private moments in her home – and on her front porch! Frank and Avita have peace of mind knowing their JFS Case Manager is there to support and guide them through challenging times.