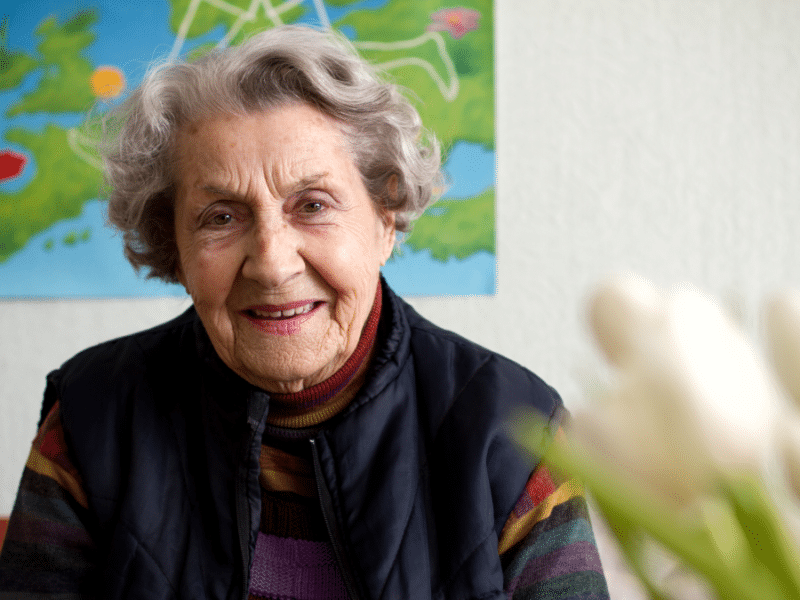 At least one in four older adults experiences a mental health disorder, such as depression, anxiety, or dementia, in their lifetime. While older adults experience life challenges common to all of us, they also face new stressors, such as health problems, reduced mobility, loss of independence, and grief. All of these factors can result in loneliness, isolation, and physical decline.
JFS understands people holistically. We look at the whole person – their emotional, mental, physical, and spiritual needs – to improve overall wellbeing. In order to promote mental health in older adults, we have to ensure that they have the resources to meet all of their needs.
Financial support
Limited financial resources, debt, and economic instability can cause high levels of stress for older adults. Often, older adults have to choose between paying for lifesaving medication or groceries, rent or medical bills.
By providing financial support to older adults, we can equip them with the tools to not only reduce financial anxiety but improve mental and physical health. JFS works with older adults and their caregivers to provide utility, rent, and medical assistance, as well as connect them to additional resources and government benefits.
Health and social support
As we get older, we might require assistance with everyday tasks, such as folding clothes, tidying up, or making meals. For older adults who live alone or suffer from a chronic illness, receiving support from a qualified homemaker services professional can be life changing.
Last year, older adults received more than 190,000 hours of homemaker services through JFS. This support has helped hundreds of thousands of older adults remain safe and comfortable in their home.
Community connection
Retiring from jobs, losing spouses and friends, moving out of your home – all of these can sharply reduce socialization and stimulation, which in turn directly impacts our mental health. Remaining connected to community is not only critical to leading a meaningful and fulfilling life, but having people to turn to helps us cope with negative life events like loss.
The JFS Older Adult Services team and St. Louis NORC are leaders in connecting older adults to their communities. In 2022, NORC engaged more than 500 older adults throughout community events, including ice cream socials, cultural and educational events, and wellness programs!
Learn more about St. Louis NORC and become a member here.
JFS is proud to work alongside our older adult community to ensure all of us have the resources to thrive physically, emotionally, and mentally. During this Older Americans Month, we hope you'll consider supporting older adults in your neighborhood by volunteering with St. Louis NORC or the Harvey Kornblum Jewish Food Pantry. This month and beyond, let's celebrate older adults for their contributions, support their independence, and recognize their impact on our community.