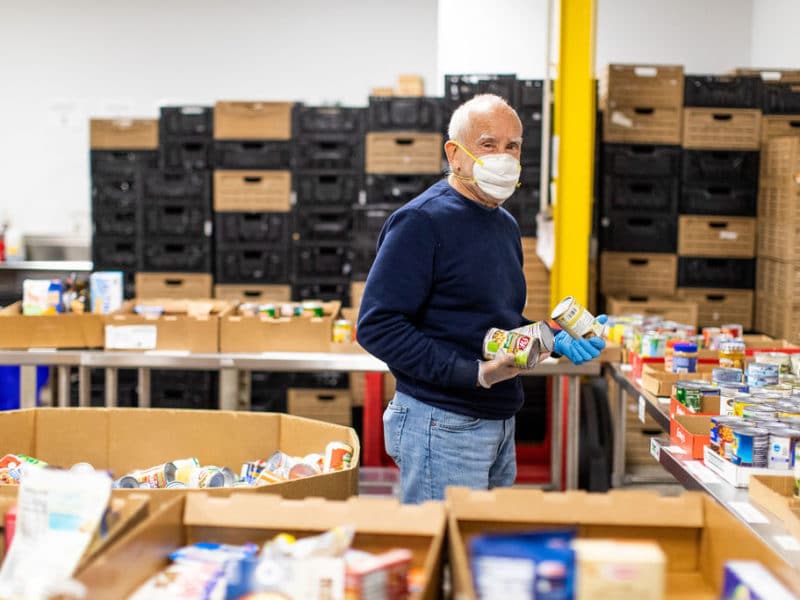 Clients aren't allowed inside the Community Interfaith Food Pantry in Belleville anymore.
They stand outdoors on spots painted on the asphalt, in the manner that's now commonplace — as though there are six invisible people standing between each person. A gloved and masked volunteer holds a baggie out, and people in need of food drop their driver's licenses into it for verification.
Inside, another volunteer wipes down a cart, fills it with boxes of macaroni and cheese, cans of tomato sauce and bags of hamburger buns, pushes it out the door and calls a client's name. The cart is unloaded, rolled back and wiped down again.
It's a methodical, hands-off system that's been fine-tuned since the new coronavirus arrived in the region, dismantling any sort of normal routine. Gone are the leisurely conversations while filling bags of food, special requests for extra bananas or chocolate milk, pats on the shoulder or hugs of gratitude.
"No one's really bellyached about it," said Jim Young, who ran the pantry for decades and now volunteers three mornings a week. "We treat clients with respect, and we listen to them."
Hundreds of food pantries in the region have been adapting protocols to ensure the safety of their clients and volunteers while hustling to keep food in stock as the pandemic's waves of layoffs and closures come crashing down.
Nearly all of the 60,000 food pantries in the United States have reported serving more people since the crisis started last month, and almost two-thirds say they are short on inventory and volunteers, according to a survey by Feeding America, the largest hunger-relief organization in the country.
Some aren't making it: Many in the St. Louis region have closed. Others are struggling to find help because their usual volunteers no longer feel comfortable in public places. Some are covering broader geographic areas as neighboring pantries close or limit their hours. All have seen an influx of clients, many of whom are visiting a pantry for the first time.
"We typically see five new families a day," said Miriam Seidenfeld, the CEO of Jewish Family Services. "We're seeing 30 or 40 a day now."
JFS runs the Harvey Kornblum Jewish Food Pantry in Creve Coeur, the biggest pantry in the region. It distributes 5 million pounds of produce, meat and dry goods to St. Louis County residents every year. By the second week in April, its usual traffic had increased by 800%.
Until recently, Harvey Kornblum was a "client choice" pantry, with folks making appointments to shop for themselves. Now, volunteers ferry bags of food to the parking lot; recipients never leave their cars. Delivery services have been added for people who don't want to venture from their homes.
So far, resources have been holding out. Like most area pantries, Harvey Kornblum receives food from multiple sources: food banks, the federal Emergency Food Assistance Program, local drives and individual donors.
What the pantry lacks is volunteers. Its paid staff of 12 has been scrambling to make up for the loss of all but 40 of their 200 regulars, many of whom are older or fall into groups at higher risk of contracting the coronavirus.
The St. Louis Area Foodbank is experiencing the same deficit, on a broader level. The Foodbank is one of two local hubs that collect millions of dollars worth of fruits, vegetables, beans and bread each month for distribution to pantries and other hunger-relief organizations.
The Bridgeton-based nonprofit, which serves 550 agencies in Missouri and Illinois, relies annually on 20,000 volunteers, who sort and box mountains of food and toiletries.
The Foodbank has now added shifts and reduced the number of volunteers per shift, to reduce crowding. But it has struggled to fill those slots.
Its food supply has been steady: When one organization has to drop donations, another has picked it up, said CEO Meredith Knopp. Virtual food drives, which can be done on the Foodbank's website, have spiked in popularity in recent weeks.
"COVID-19 is unprecedented," said Knopp. "Usually a disaster affects one community, so people can converge their resources."
No community has been immune to the coronavirus. Almost three dozen pantries served by area food banks have closed, at least temporarily. Groceries with empty shelves don't have as much surplus to give away. Schools and churches that used to hold food drives are no longer open. Restaurants and casinos have bolstered the food bank with unused supplies as they shut their doors, but that's a one-time opportunity.
"We're doing our best to predict an unpredictable situation," said Knopp. "We're always thinking of contingency plans."
The Foodbank has doubled its decade-old Mobile Market program, with 150 temporary sites set up this month. Shonda Gann, who runs the food pantry at Hope Church in Hazelwood, coordinated one of the drive-by food giveaways for the first time two weeks ago.
Her pantry is open to the community on Wednesdays, but that has not been enough.
"We have so many families in need," said Gann. "We were getting phone calls in the church office."
The Mobile Market has helped. On the first Saturday of April, more than 10,000 pounds of food were packed into the trunks of 431 cars, with a line that started forming three hours early and snaked across the parking lot of the former St. Louis Mills mall. The following weekend, 634 vehicles came through. Gann plans to continue running the Mobile Market as long as the Foodbank will supply it.
This article first appeared in St. Louis Post Dispatch on April 19, 2020.