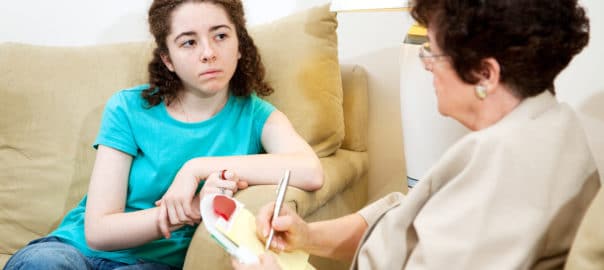 Katie and her stepmother first came to visit JF&CS last summer. When they entered the therapist's office, the tension that had built up between them was visible: crossed arms, lack of eye contact, raised shoulders. It was clear that their relationship was in a difficult stage that they would need help navigating.
Katie had been acting out in school and her family could not find the root of the problem. During client and therapist family counseling sessions over the next year, it became clear that Katie could benefit from diagnostic testing at JF&CS. After a comprehensive set of tests, Katie was diagnosed with ADHD. This diagnosis allowed Katie and her JF&CS therapist to develop a set of tools she could use to treat her symptoms and overcome her frustrations in the classroom. As she and her family grew to understand her diagnosis, Katie's behavior changed dramatically. Suddenly she was acting more like a teenager, laughing during appointments, talking about weekend plans with her friends, teasing her stepmother. She was no longer weighed down by the burden of having her ADHD symptoms interpreted as misbehavior.
Her family continued to see the JF&CS therapist over the next several months to check in and address any concerns they were having. Their counseling did not end at a diagnosis, they were proactive to address any bumps in the road that they encountered. Now Katie is approaching a new school year feeling ready to face any challenges that come her way.