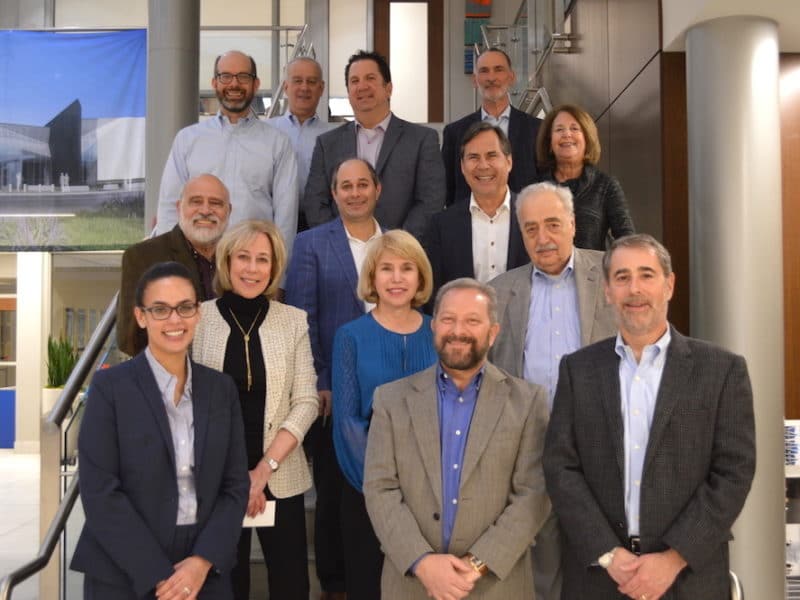 JFS is privileged to have leaders of exceptional talent and diverse backgrounds to steward our organization through these challenging times.
As our community and communities throughout the world grapple with the spread of COVID-19, unemployment is rising, children who previously received meals at school are struggling with hunger, and seniors are more isolated than ever. Our Board of Directors ensures that JFS continues to serve nearly 60,000 people each year — providing a critical safety net and helping people to navigate life's challenges each and every day.
JFS continues to offer a holistic approach and accessible services — through multiple points of entry — to address the complex needs of individuals and families. The need for our services has increased during this unprecedented time when so many of us are experiencing new challenges and crises.
With the support of our Board, JFS is overcoming these new hurdles and doing so in a way that is providing essential relief to those in need and strengthening our organization from within.
The 2020 – 2021 Officers of the JFS Board of Directors:
Jill S. Belsky: President
Jill joined the JFS Board in 2010 and is instrumental in leading the board with her expertise in business and facilities management. She is currently the Vice-President of Rodemyer-Christel, Inc. and holds a MBA degree from Washington University. Jill was formerly an Alderman in the City of Clayton for eight years, during which time she held multiple positions. In addition, Jill is former Board of Director of the Downtown St. Louis Community Improvement District and is a member of the Real Estate Board of Metropolitan St. Louis.
Brian Braunstein: President-Elect
Brian joined the JFS Board in 2017. As Assistant Vice President and Risk Management Counsel for Enterprise Holdings, Inc. and its multiple brands, Brian's expertise in risk management and strategic planning play an essential role on the JFS Board. He holds a J.D. from Case Western Reserve University and a Bachelor of Science from State University of New York at Buffalo.
Stephen E. Green: Immediate Past President; Vice President Financial Development; Nominating Committee Chair
Steve joined the JFS Board in 2013 and provides invaluable guidance with organizational finances and fundraising efforts. Steve is a Certified Financial Planner and earned his MBA from Washington University in St. Louis. He also holds a B.S. in Education from Texas A&M University. He joined Krilogy in 2016 after eight years of owning and operating an independent financial planning firm. Steve is actively involved in the community, serving on the Alumni Board of Governors of Washington University, the Board of Temple Emanuel, and the Investment Committee of Provident, Inc.
Jeffrey Dardick: Treasurer/Secretary
Jeff joined the JFS Board in 2015 and uses his lifetime of experience in accounting and finance to oversee the organization's budget and financial policies. Prior to his retirement, Jeff served as a partner for more than 25 years at two of the largest international public accounting firms in the world, developing strategies for Fortune 500 companies that addressed complex business, financial and tax issues. He holds degrees in Accountancy and Law from University of Missouri and is proud to volunteer at multiple nonprofits that serve diverse communities in St. Louis.
Steven C. Drapekin: Vice President Strategic Planning
Steve joined the JFS Board in 2015 and uses his corporate legal expertise to lead the organization's strategic and long-term development. A partner at Lewis Rice, Steve focuses his practice on corporate, commercial finance and real estate transactions. He earned his J.D. from the University of Illinois College of Law and his B.A. in History and Economics from University of Illinois. In addition to multiple professional affiliations, Steve serves as a team leader for the YMCA Partner for Youth Campaign.
Jim Levey: Vice President Human Resources
Jim joined the JFS Board in 2014. As Associate General Counsel at Graybar, Jim's legal knowledge and expertise allow him to guide JFS on workplace policies, hiring and other human resource matters. He holds a J.D. from Duke University School of Law and a Bachelor of Science in Business Administration from the University of Pennsylvania.
Carly Sparks: Vice President Agency Services
Carly joined the JFS Board in 2017 and is fundamental in guiding the board with her expertise in mental health, and family services. Carly is a clinical social worker with more than 13 year of experience specializing in trauma, depression, anxiety, relationship issues, familial stress and parenting. She is a graduate of the Brown School of Social Work at Washington University in St. Louis where she currently helps teach classes to first year social work students. Additionally, Carly volunteers at NCJW, the Jewish Federation, Saul Mirowitz Day School and with JSU.
Thank you to the JFS Board of Directors for guiding our mission to provide personalized programs and resources that reduce suffering and enrich the lives of everyone in need.