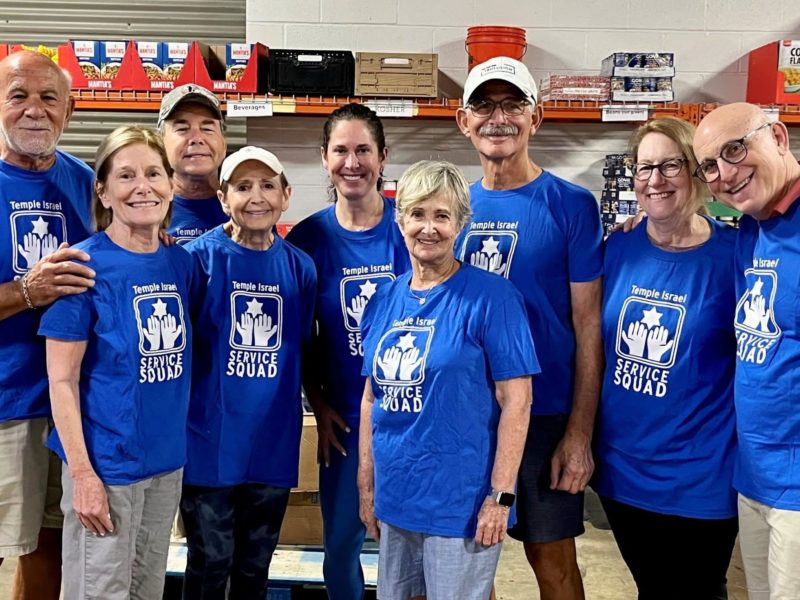 Neil Marglous first became involved with JFS St. Louis nearly 13 years ago. He had recently retired and wanted to share his time and talent for customer service and warehousing with the community. He started volunteering at the Harvey Kornblum Jewish Food Pantry once a week and quickly learned that he loved supporting the behind-the-scenes work: stocking shelves, organizing boxes of food, packaging groceries for clients.
"It makes me feel good – it's rewarding to be helpful to other people," said Neil.
Through hundreds of hours of community service, Neil has continued to practice tikkun olam – repairing the world – by leading a group of Temple Israel volunteers at the Pantry. At least twice a year, Neil, who is Vice President of the Temple Israel Board of Directors, and a group of nine to 12 members spend a day supporting operations at the Pantry. During the holiday season, Temple Israel delivers hundreds of pies to the Pantry, so that families across the community can share a meal during Thanksgiving.
JFS of St. Louis is grateful for the countless hours Temple Israel volunteers have dedicated to helping provide nutritious food to our neighbors facing food insecurity. We are inspired by Neil, his wife and fellow volunteer, Ricki, and the Temple Israel members who continue to make a difference in our St. Louis community.