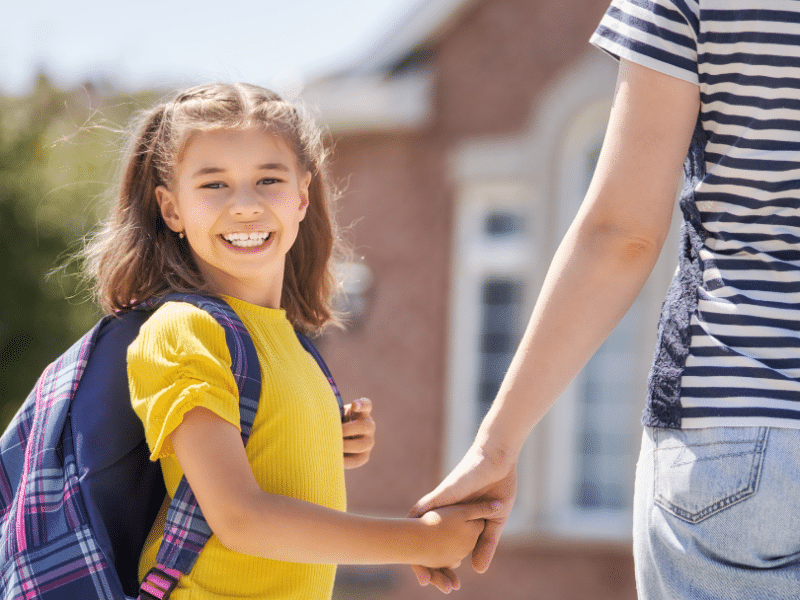 As the carefree days of summer end and children embark on a new school year, parents and caregivers can ease the transition and prepare their students for the year ahead. JFS School-Based Services Supervisor and Therapist, Melani Saito, works with children in St. Louis, to empower them to achieve their goals and establish healthy relationships with their families, teachers, and peers. Check out her tips for helping children start school on the right foot and keep up the momentum throughout the academic year.
Model the Behavior You Want to See in Your Child
Children learn and imitate behaviors by watching and listening to their surroundings. They see how you treat others and manage conflict. They notice how you handle stress. They're watching and learning from you every day, even when you think they aren't paying attention.
Think about what you want your child to learn from you, and try to model that behavior in your life.
For instance, if you manage failures with self-compassion and grace, your children will learn to be caring and understanding to themselves, instead of judging or criticizing themselves.
Looking to make school mornings less stressful? Start by modeling behaviors to manage your own mornings, like planning your outfit and preparing your lunch or breakfast the night before.
Of course, no one is perfect. There will be times when you make a mistake – and that's okay. Use this as an opportunity to talk to your kids about what happened and how you'll do better next time.
Use Positive Reinforcement
Positive reinforcement is one of the most effective techniques a parent can use to encourage positive behaviors and motivate a child to keep doing well! It shapes and guides behavior by focusing on the positive, while reframing mistakes as opportunities to learn.
Positive reinforcement doesn't always have to be tangible. For instance, offering praise, giving a high-five, or clapping and cheering are all great ways to reinforce behavior! Extra privileges, like more time playing on their computer or going out with friends, can also work to encourage and motivate children.
Reinforcing and rewarding efforts and improvement, however, is more important than praising perfection. When you see your child trying and growing, show them you notice and appreciate their efforts.
As the new school year kicks in, some good behaviors to enforce include completing their homework, putting away their lunchbox and backpack, being a good listener, using their manners, and showing compassion.
Build a Partnership with Your Child's Teacher
Teachers play a vital role in shaping your child's education and future. One of the best ways to guarantee a successful school year for your child is by working as allies with them. Not only does this give you an opportunity to take a more active role in your child's education, but it also gives both you and the teacher insight that can guide your child's school year.
Start by letting teachers know about your child's habits, routines, and subjects they excel at and ones they don't. You can collaborate on ways to overcome challenges in the classroom or reinforce positive behaviors at home. Ask your child's teachers what learning strategies you can carry over at home and boost your child's abilities. Remember that you and the teacher both have your child's best interest at heart.
JFS is Here to Help
If your child is facing stressful challenges at school, such as educational or mental health issues, therapists and school counselors are your greatest allies. For more information about JFS' services and how we can support and empower you and your child, contact us at 314-993-1000.