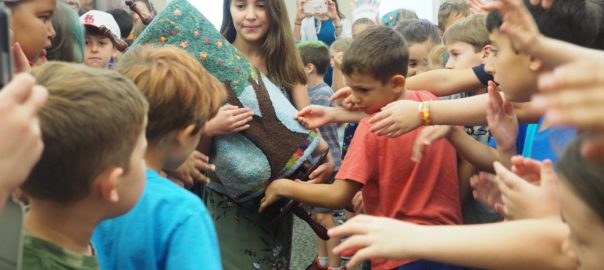 Children are never too young to learn the value of giving to neighbors who need a helping hand. The first day of kindergarten, our friends at Saul Mirowitz Jewish Community School (K-8) begin learning about tikkun olam (healing the world) and the importance of tzedakah. We recently had the pleasure of visiting the school to learn about some of the ways the students support our Harvey Kornblum Jewish Food Pantry. Serendipitously, our visit coincided with a weekly student-led Torah discussion that centered around our Jewish obligation to help the needy.
Chanting Torah in front of 100 lower school students and teachers was 5th grader Shaun Kruger. The week's portion was Deuteronomy 13:5, and as Shauni spoke, she reflected on the 150,000 children in St. Louis who may go hungry because their families don't have enough to eat. She challenged her peers to imagine what life might be like for people who don't have the resources they need, and encouraged her classmates to take action by donating or volunteering with a local charity.
This is a lesson that resonates strongly with 7th grader Tzofia Dean. "When I went to the food pantry, I was surprised to learn that so many kids are hungry. A lot of families who use the pantry just need help getting back on their feet. It feels good to be able to help."
Each Friday, Mirowitz students give back to the community through donations of canned goods. The pantry, which feeds more than 6,000 visitors each month, relies on the generosity of donors for more than 50 percent of the food it distributes. Mirowitz students also host special food drives during the pantry's busiest times, and teach students about food insecurity through a middle school social justice trip to Heifer Ranch in Arkansas.
We can't wait to see what the future holds for these mitzvah makers, and feel lucky to have such an inspirational school as part of our St. Louis community. We are grateful for the students and families at Mirowitz for their kindness and passion for social change, and look forward to many more years of partnership!